Update (Jan/2019): Late December it was announced by Adobe that support and distribution of Oracle Java LTS versions including its updates will be provided by them (Adobe) for AEM customers directly. See my updates on Oracle Java support for AEM provided by Adobe directly
Java's new, agile release train is moving faster, but it comes at a price. Oracle set a date for the end of the Java 8 updates.
AEM 6.1-6.4 runs on Oracle Java SE 8. Newer Java versions are not supported by Adobe. They may run on OpenJDK, but Oracle never said that a software that runs on Oracle Java will run on OpenJDK. All they say is that it "should" work.
Java SE 8 end of public updates for business users: January 2019. Customers who don't have paid license, won't receive updates for Java 8 after this date.
AEM 6.5  release expected in April 2019.
JDK 9 and 10 have a short life as they are not LTS releases, therefore Adobe is likely to support Java 11 (LTS) with the upcoming AEM 6.5.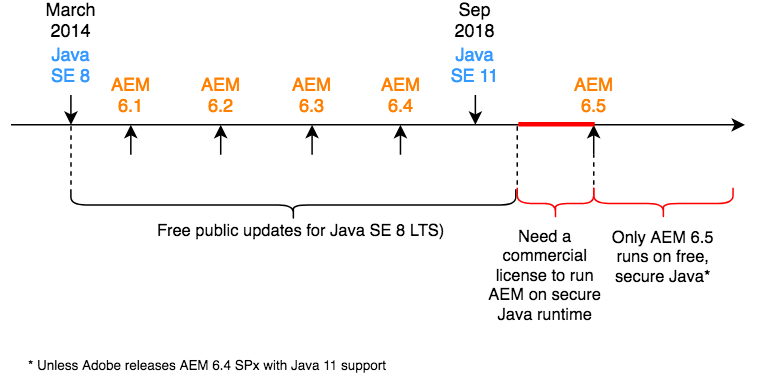 After January there will be no option to receive updates for Java 8 for business without a commercial license and it is unlikely that an existing AEM installation can be upgraded to AEM 6.5 right in April, therefore those who do not want to pay for the Java commercial license take a moderate risk.
Ok, shall I upgrade my AEM solution to Java SE 9 or 10 then?
Java SE 9 and 10 were rapid, feature releases, but they didn't come with long term support (LTS). Their public updates ended already (Sep 2018 for Java SE 10). AEM doesn't support these versions officially. Upgrading to Java 9 or 10 won't help.
If Adobe won't release a service pack for AEM 6.4 that brings Java 11 support before January/2019, then customers have to buy commercial license in order to receive security updates for their Java 8 platform hosting AEM 6.1+.